The best dog food is tailor-made
Really. We even won the Best Product of the Year award with it. That's the power of food that gives your dog all the nutrients HE needs, not the neighbour's.

🐟   The best ingredients

❤️   The best guidance

💰   The best price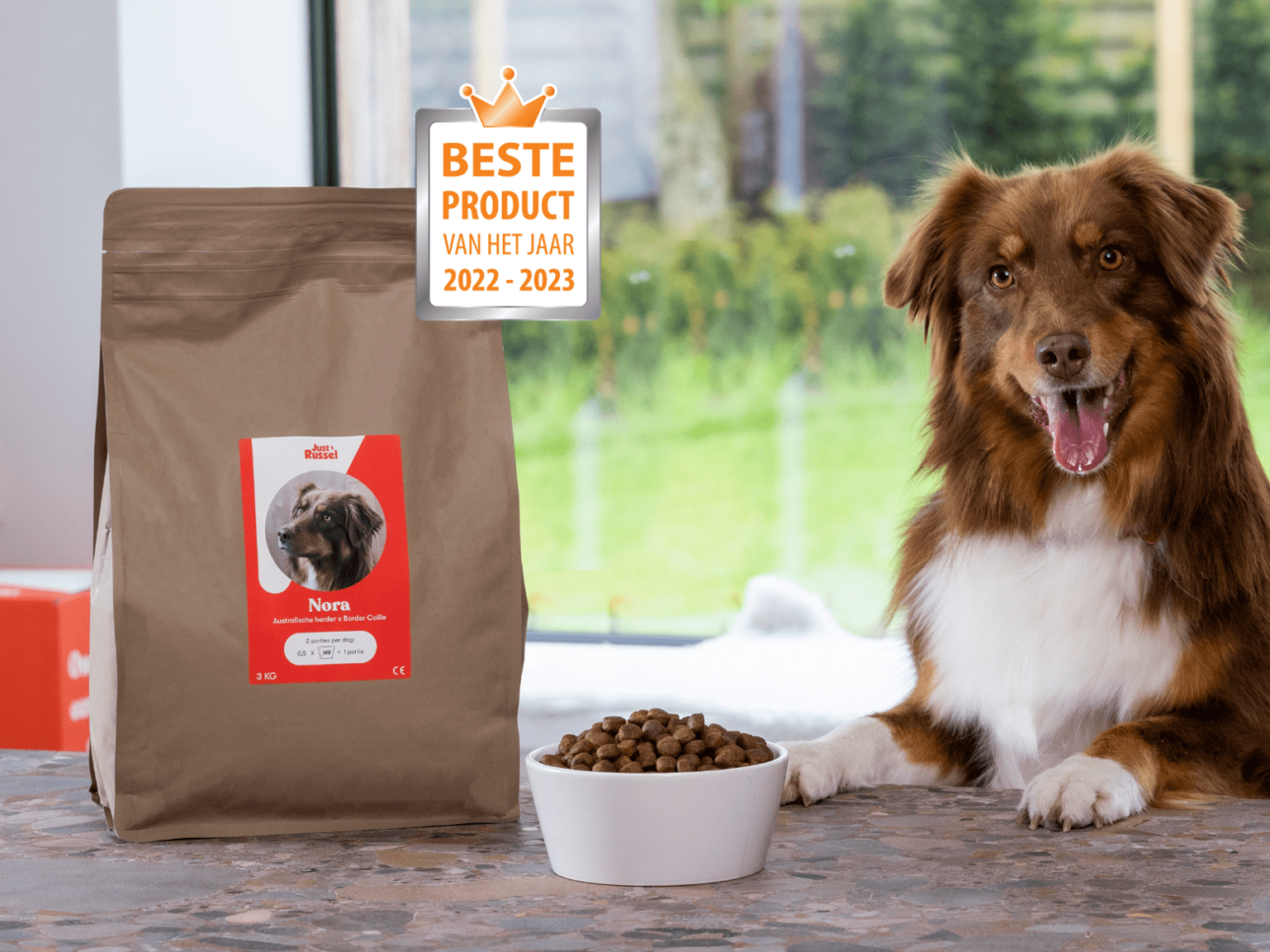 What is the best dog food for my dog?
The 'best' – that's what every brand claims to be. Even if it's not. That's why we prefer not to just say so, but give good reasons: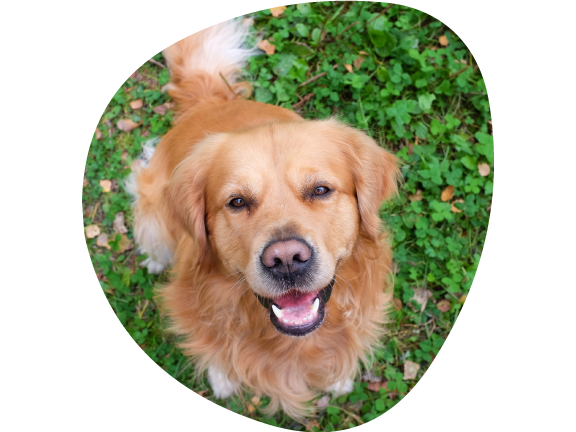 Your dog in the spotlight
At Just Russel, your dog and his health are number one. That's why we make tailor-made dog food on the basis of his needs. After all, a 12-year-old chihuahua female is not a 3-year-old Bernese male, right?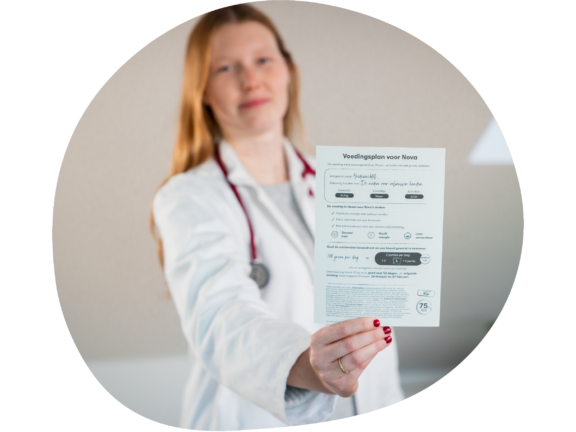 Created by veterinarians
They know what is best for your pet, don't they? Our expert team analyses the needs of each dog like yours. Then they prepare a unique recipe with fresh ingredients for the longest and healthiest dog life.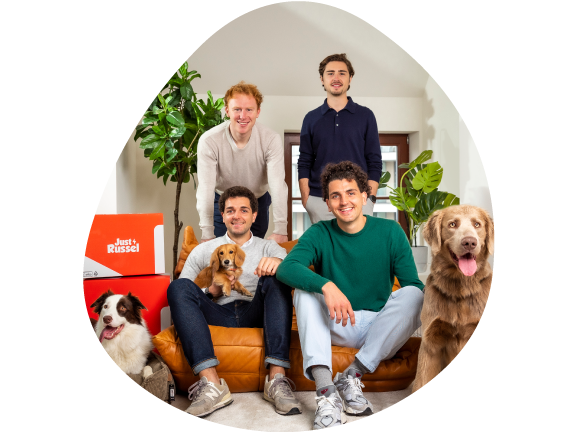 Good for your wallet
Who says healthy dog food has to be expensive? Because we work without middlemen – unlike pet shops – you can buy premium dog food up to 30% cheaper with us. Without sacrificing taste or quality.
The best food for your dog
You are 3 steps away from a dog's life full of joy and health. What are you waiting for?
1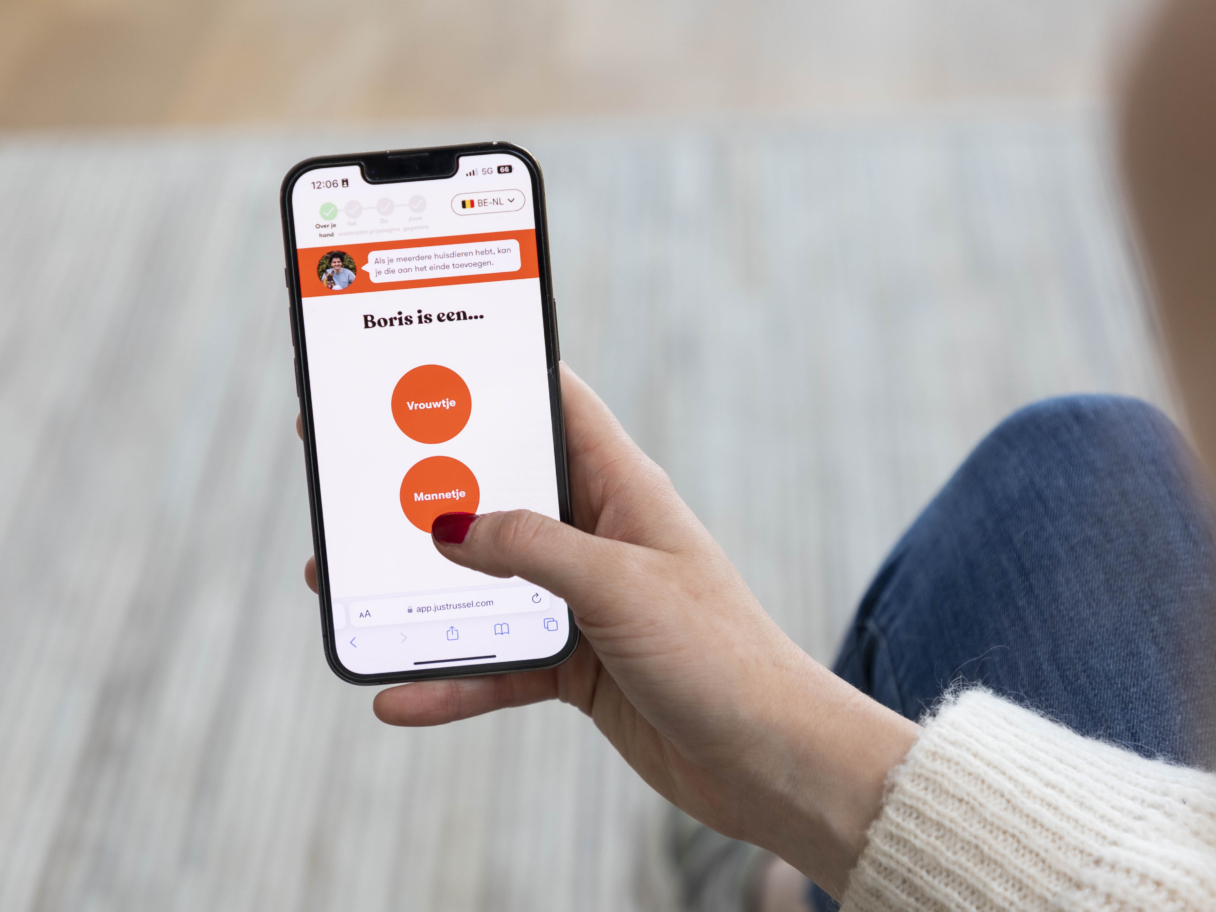 Tell us what we need to know about your dog
2
We determine the nutrients
3
We make your food and deliver it to your front door
The best dog food, the best service
At Just Russel, it's all hands on deck. At the helm are our vets and customer service to help you manage your dog's health. A question or concern? Our experts listen with pricked ears and give nutritional advice you can really use. We can be reached between Monday and Friday from 8 a.m. to 6 p.m.
☎️ +32 472 90 90 39
✉️ hello@justrussel.com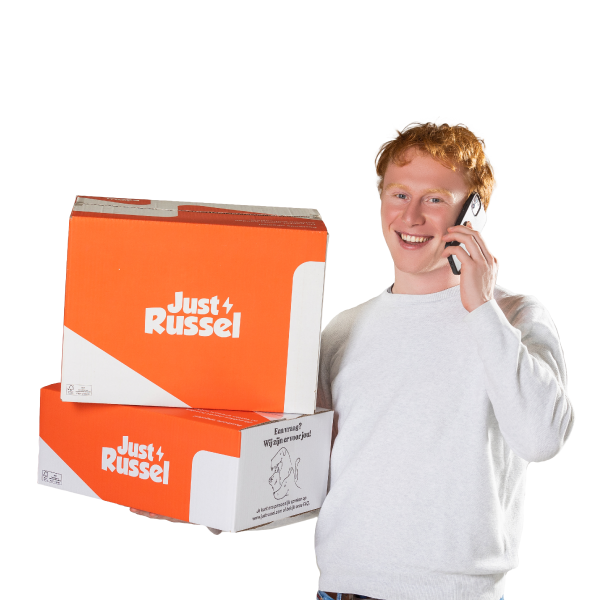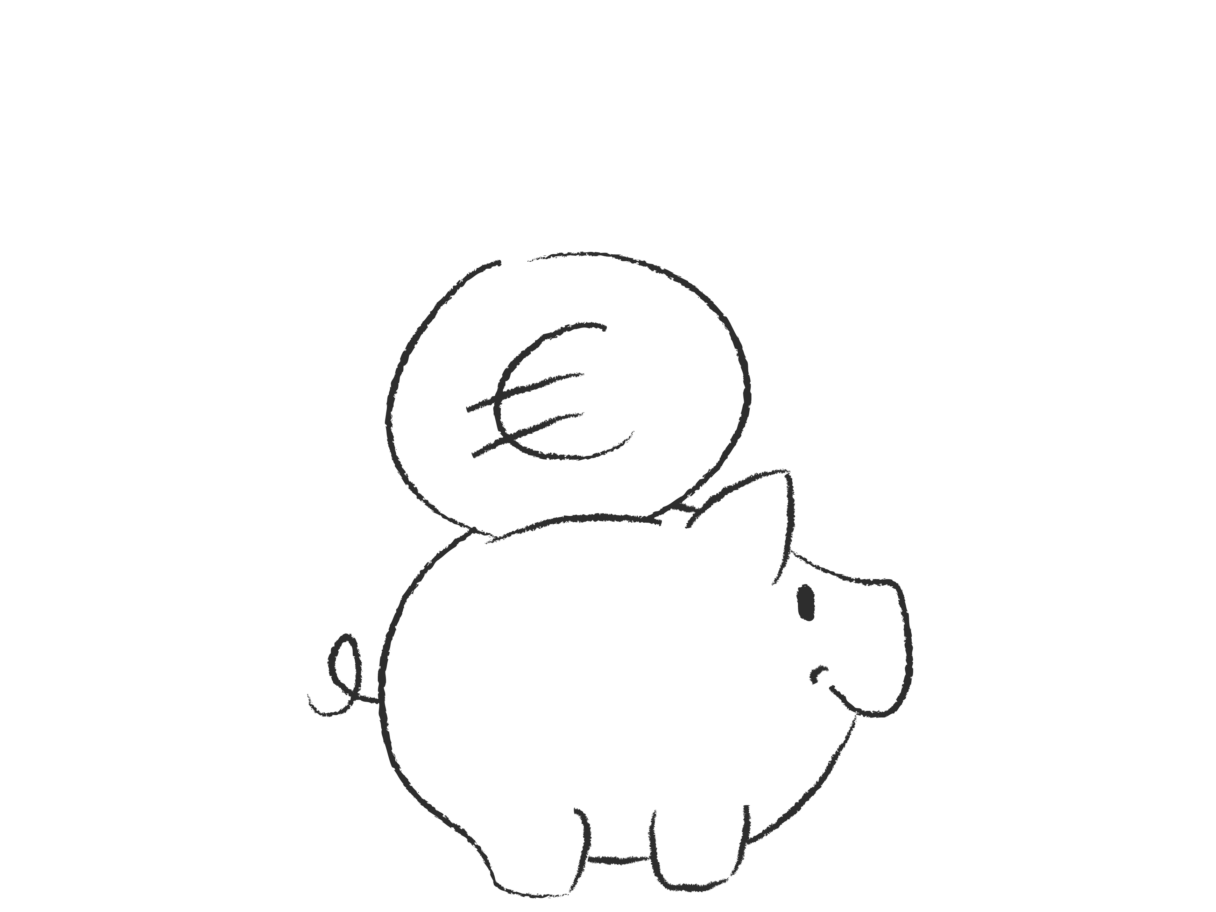 Up to 30% cheaper
compared to other premium brands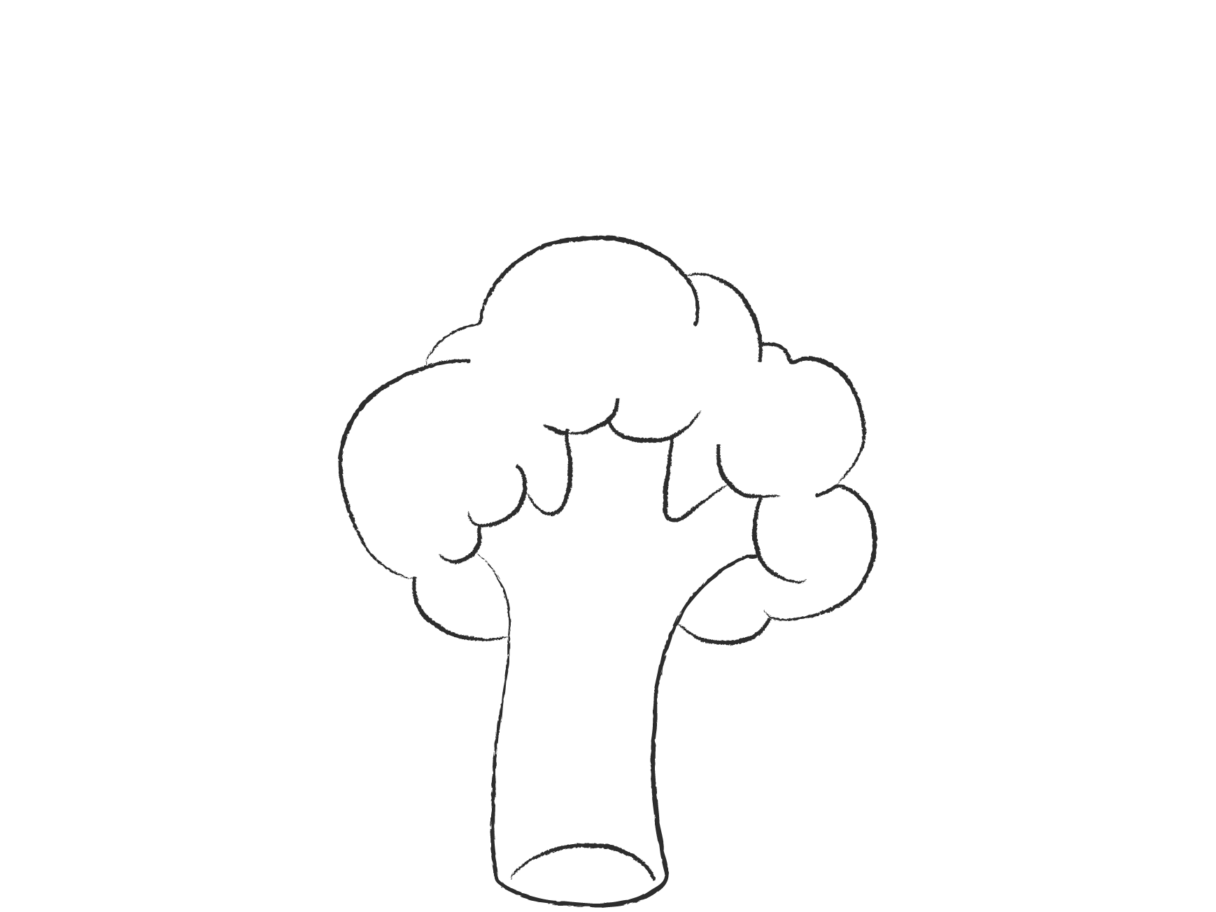 Only natural
High-quality ingredients of natural origin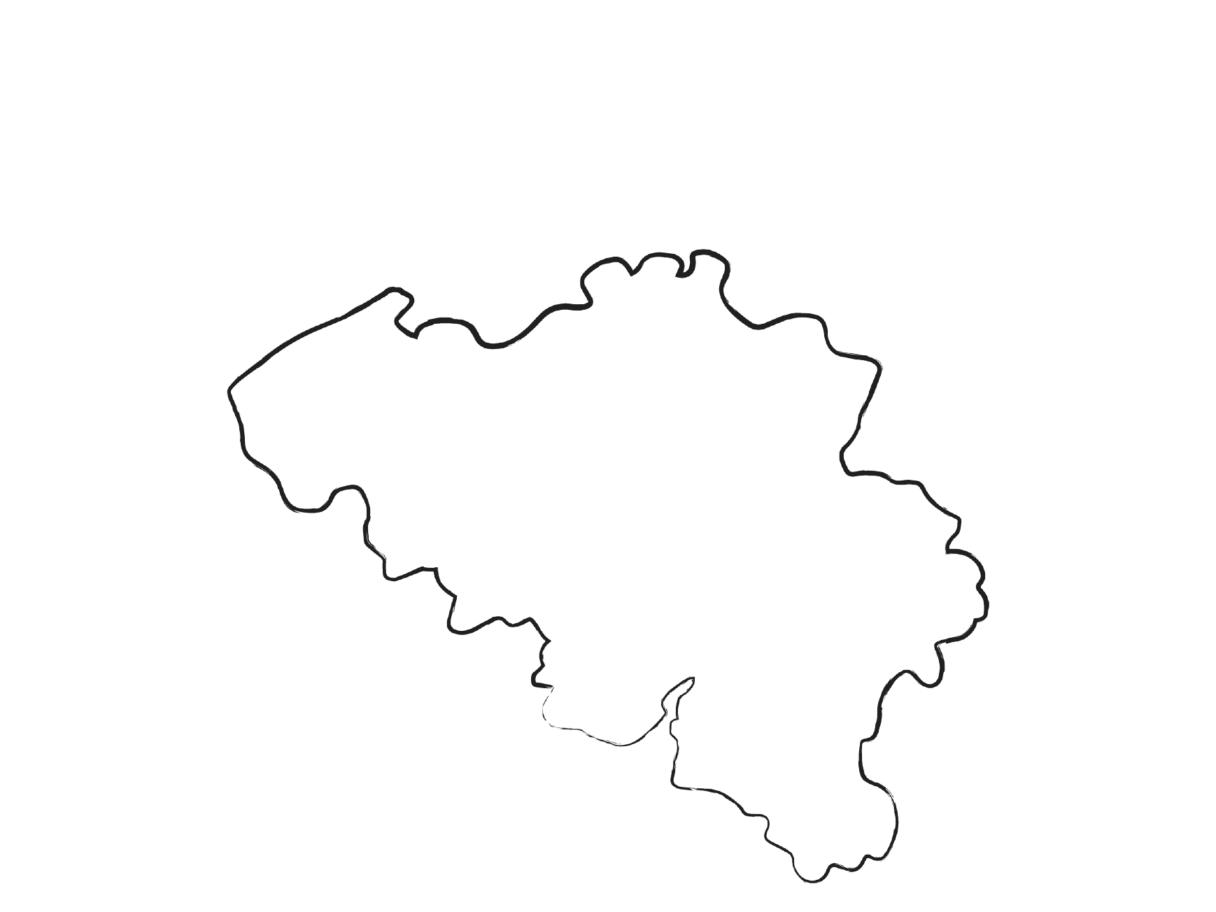 Made in Belgium
Our ingredients are sourced from local producers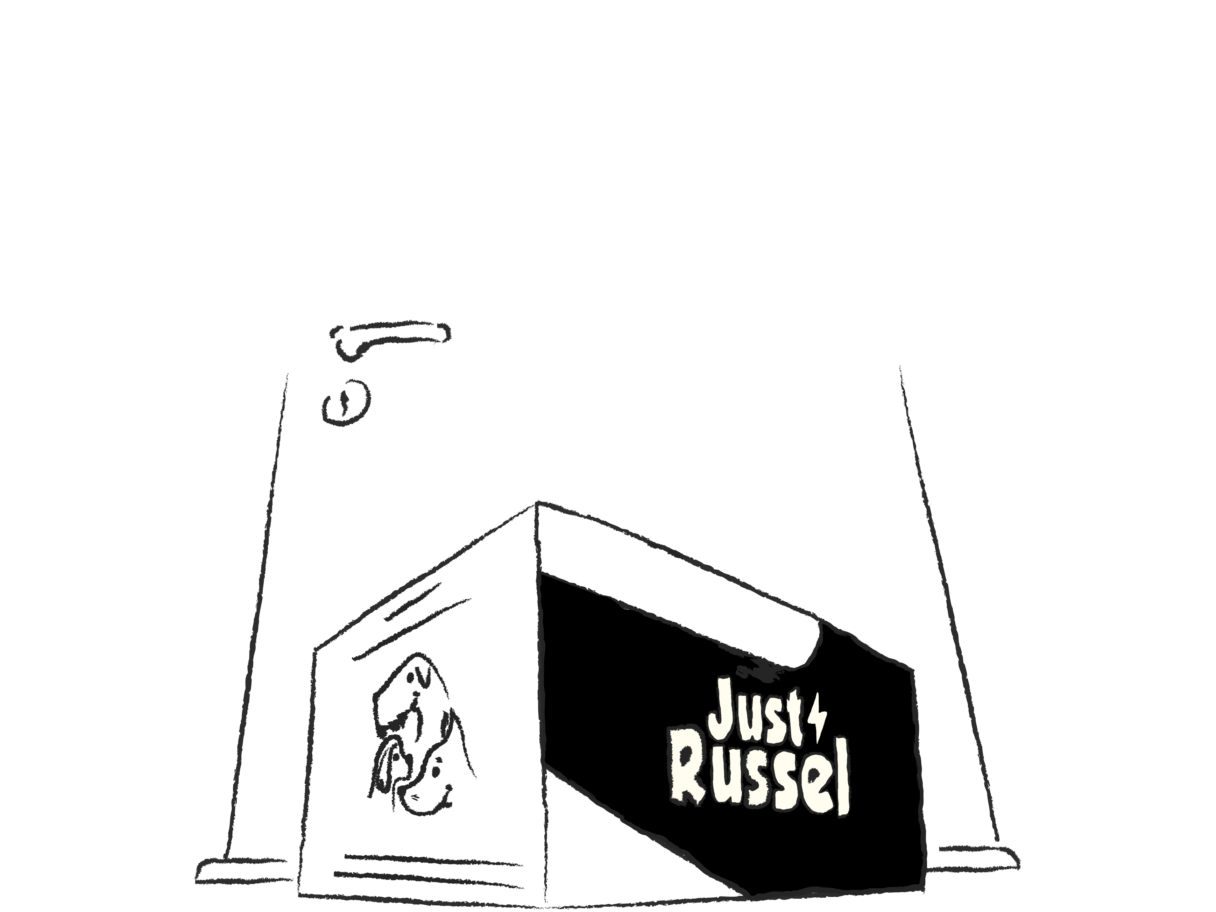 Free home delivery
No shipping costs, we deliver free to your front door.
The best dog food is 100% clutter-free
The best dog food that makes your dog energetic and healthy. Not lifeless, fat and sick. That's why at Just Russel we avoid unhealthy fattening foods and distasteful bone meal, and you can leave all kinds of allergens out of your dog food.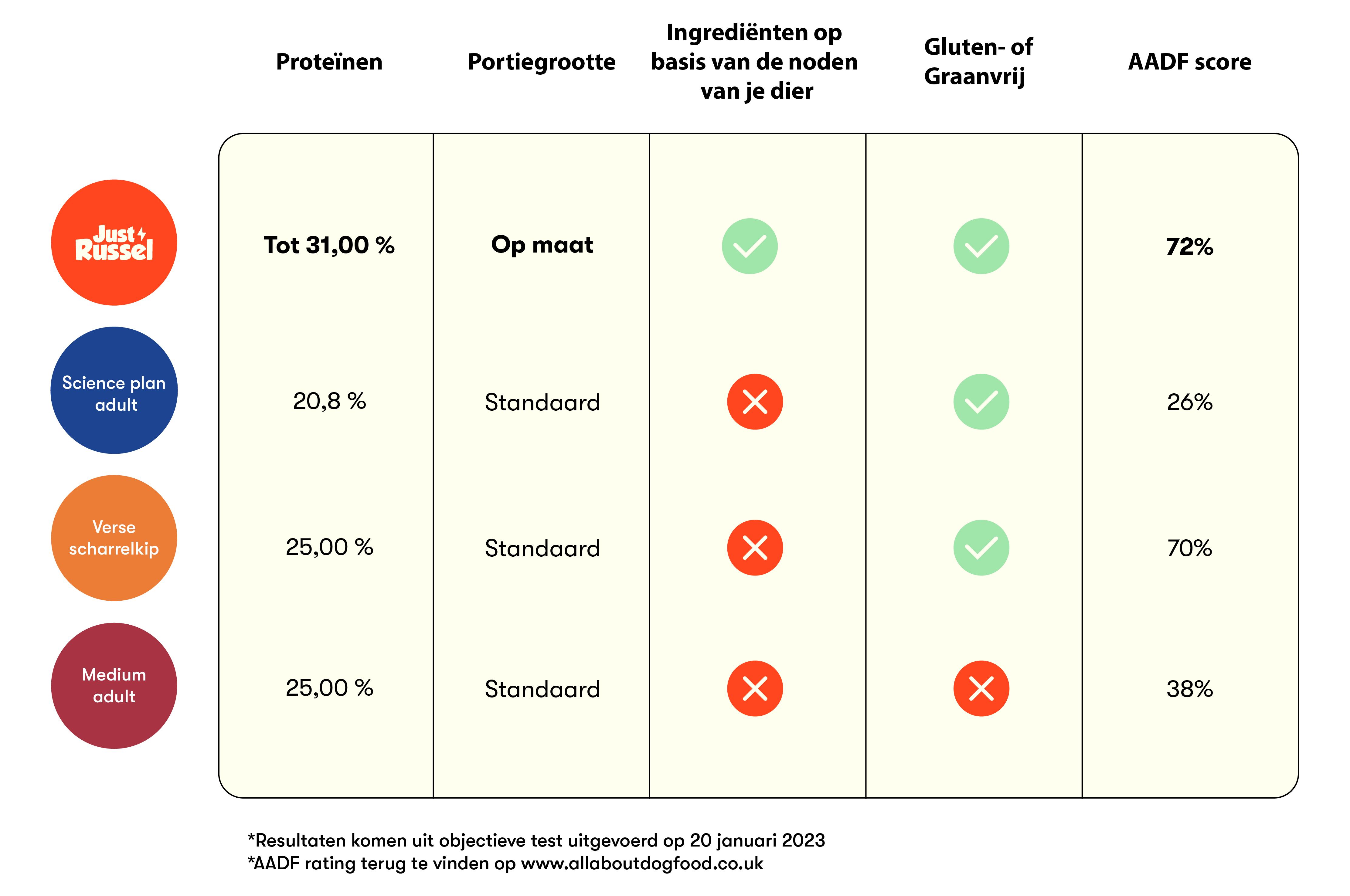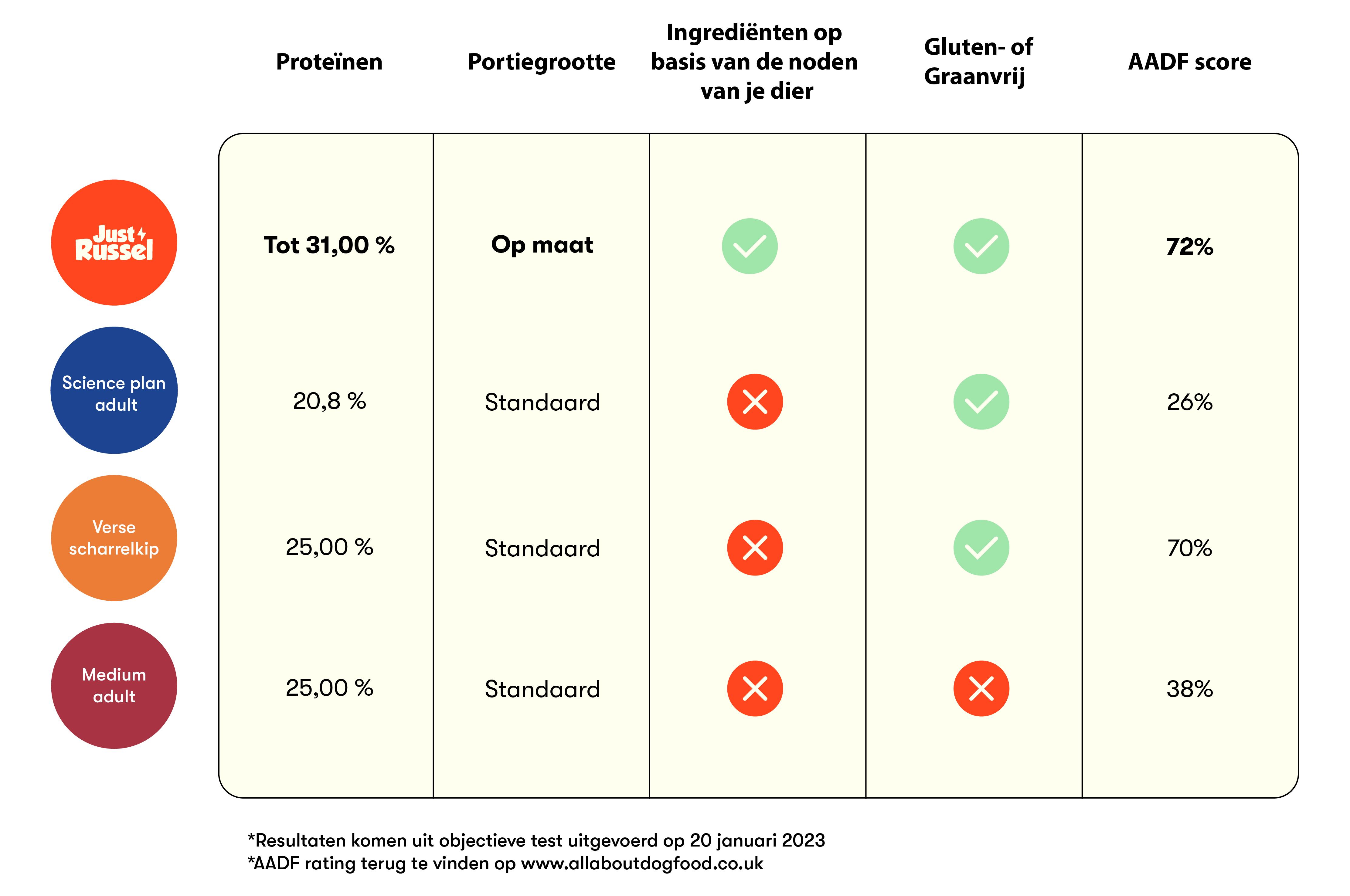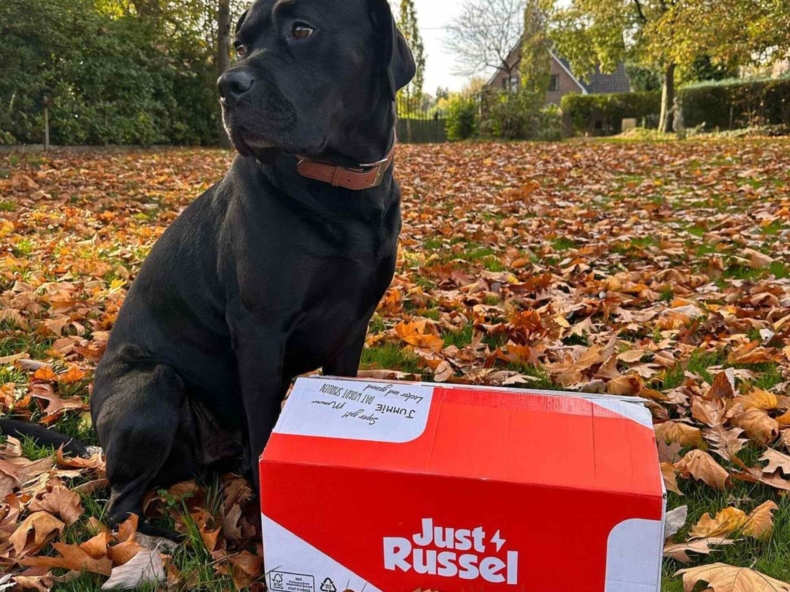 Fantastische service, super vriendelijke mensen én prijs kwaliteit écht het beste wat we al gehad qua voeding voor Abby! Heel blij mee en het neemt heel wat gedoe weg doordat je nooit moet denken aan het feit dat je nog voeding moet halen. Het staat maandelijks gewoon exact op tijd aan je deur! Heerlijk!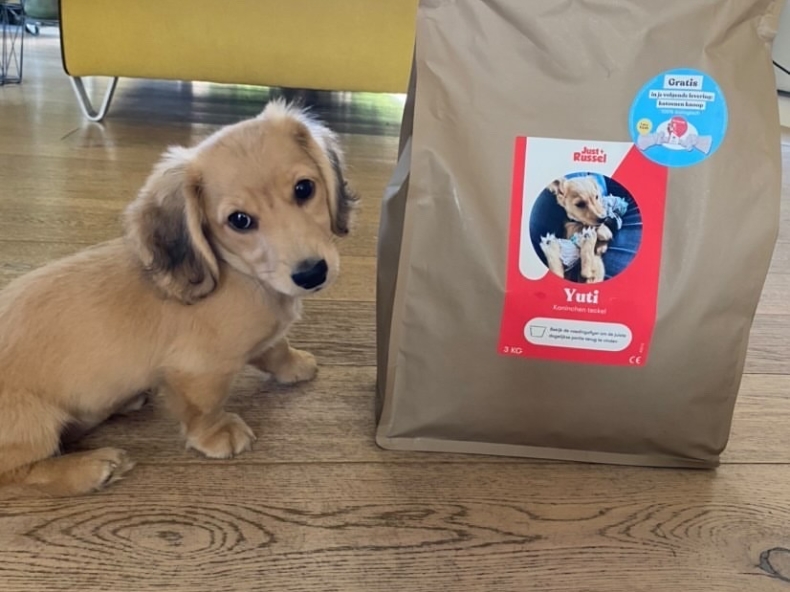 Na meer dan 10 merken geprobeerd te hebben, is Just Russel het eerste merk waarvan onze pup geen slappe stoelgang heeft! Nu kan ze eindelijk verdikken en versterken. Ik vind het ook super makkelijk om het eten te bestellen. Je merkt echt dat jullie klantvriendelijkheid hoog in het vaandel dragen!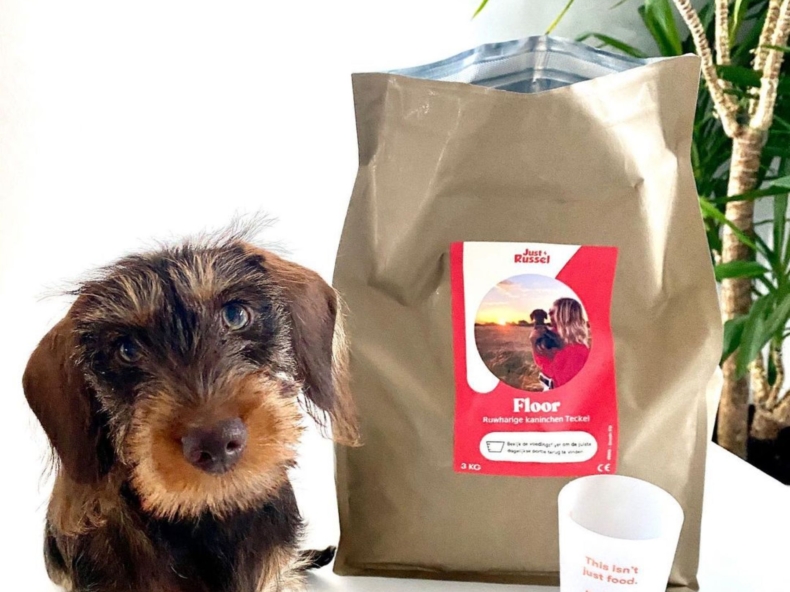 Onze pup met meerdere allergieën verdraagt Just Russels voeding perfect. Ze smult als nooit tevoren en de gepersonaliseerde zakken zijn een leuke extra. Eindelijk een oplossing gevonden die volledig op haar is afgestemd. Wij zijn fan!
What else you need to know about the best dog food
The best dog food for puppies contains enough calories for growth energy, the right calcium-to-phosphorus ratio for a strong skeleton and contains between 22 and 32% animal proteins.
Puppy food has to ensure that your puppy grows optimally, so its bones, muscles and organs develop into a strong, healthy body. Is your puppy growing too fast? That can cause painful joint problems in adulthood.
Have your puppy food tailored to your puppy so he gets the right nutrition per growth stage. We will help you with personalised puppy food, discover your personal recipe by clicking here.
The best dog food for adult dogs is wheat- and corn-free and contains:

– at least 33% fresh meat or fish
– a minimum of 25% animal protein
– a minimum of 10% crude fat
– a maximum of 5% crude fibre

If you want to know the perfect composition of dog food for your adult dog, you can let us calculate it for free. Discover it here.
The best senior dog food contains comparatively fewer calories for a quieter lifestyle and plenty of chondroitin and glucosamine against joint wear and tear

In addition, the best senior dog food is also extremely easy to digest. This allows him to still get enough nutrients from his food despite a slowed metabolism.

Curious about the best composition dog food specifically for your senior dog? Fil in 10 questions about your pet here and discover it.
Already 6 486 002 meals delivered!