Puppy food that grows with your pup for a worry-free future
Wow, a puppy in the house! We wish. Ideally, you'd like to see him tirelessly wagging, running, jumping and sniffing and that all for a lifetime. That's why our vets develop puppy food tailored to your new little friend. So you can rest assured that he will grow up to be a healthy, happy dog.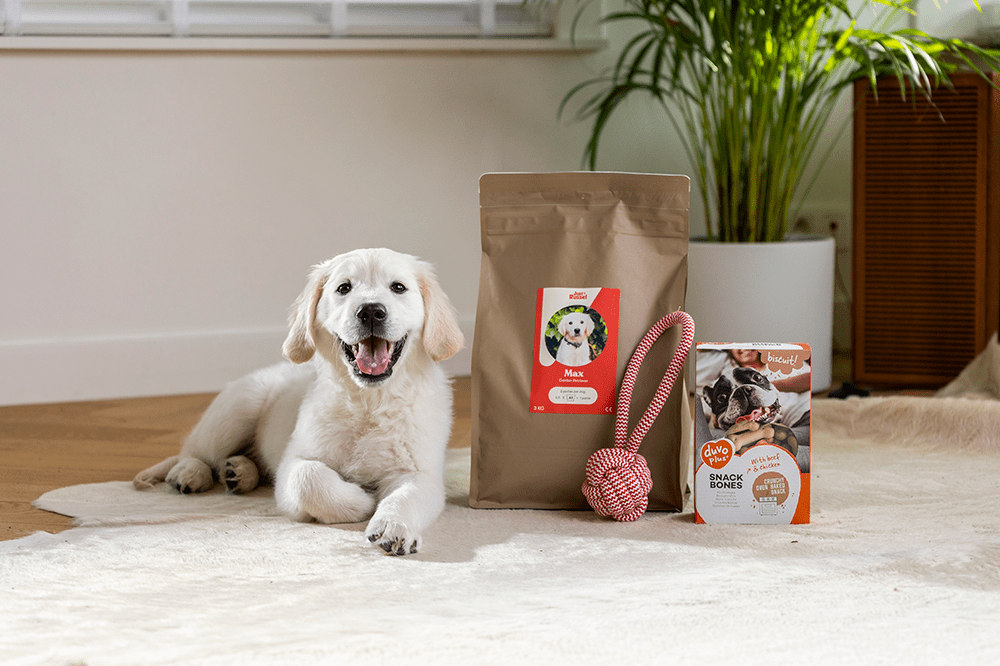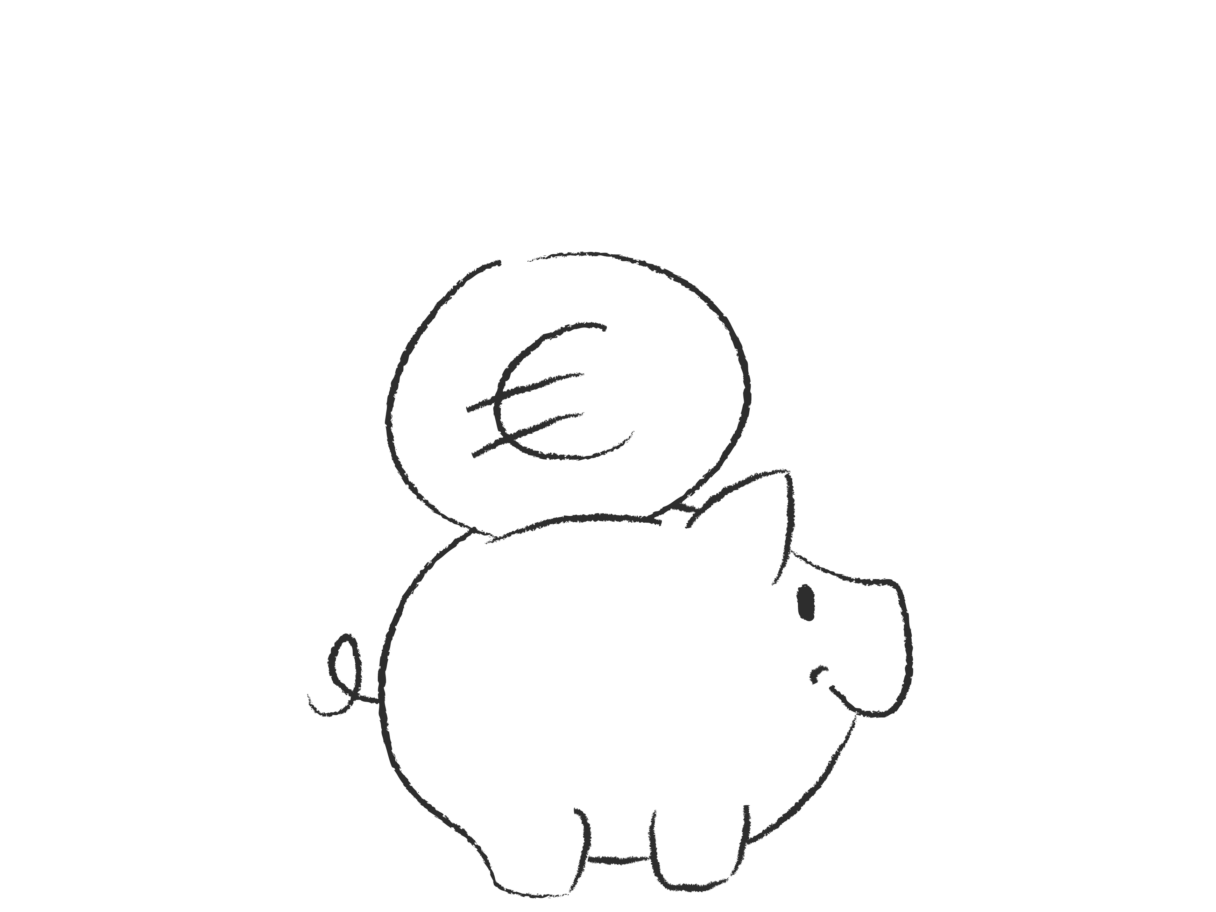 Up to 30% cheaper
In comparison to other premium brands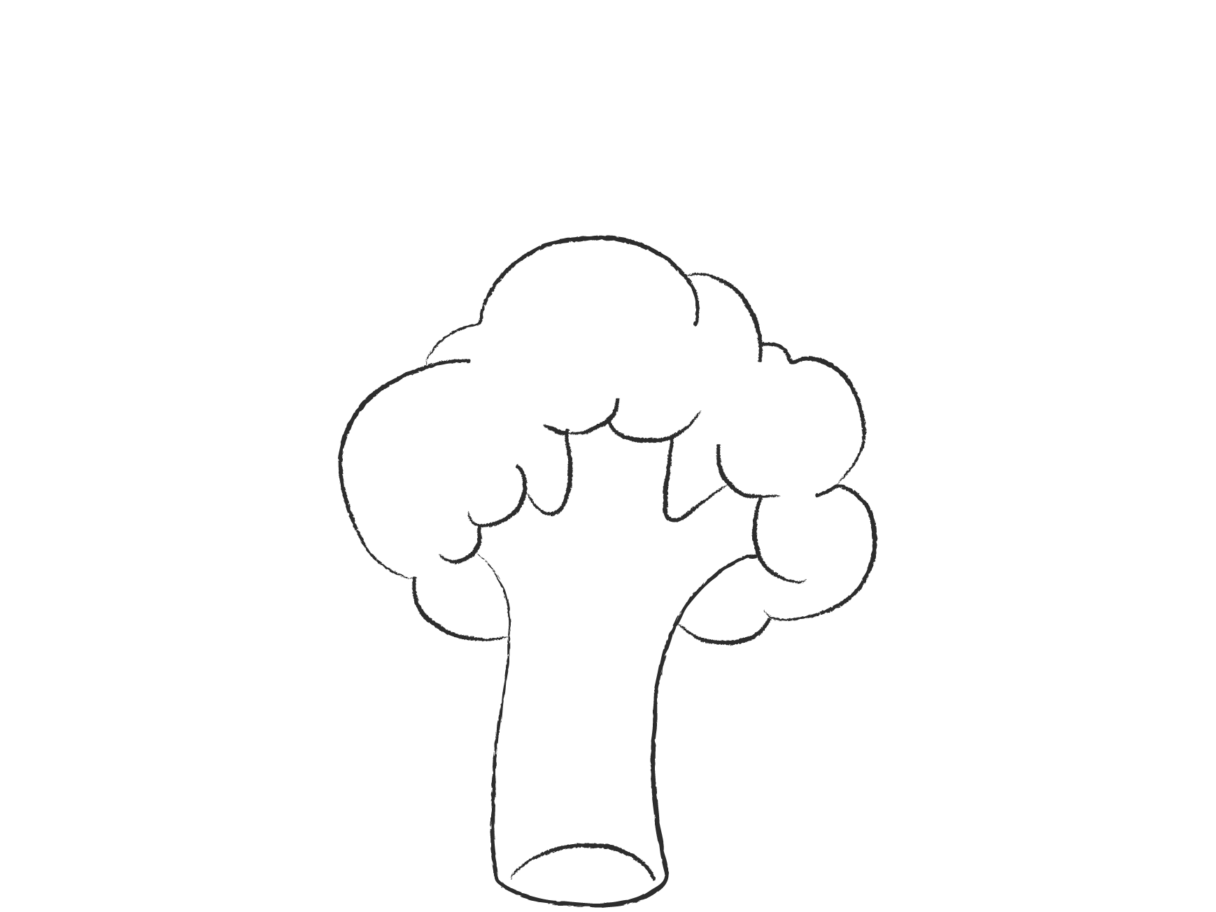 Only natural
High-quality ingredients of natural origin.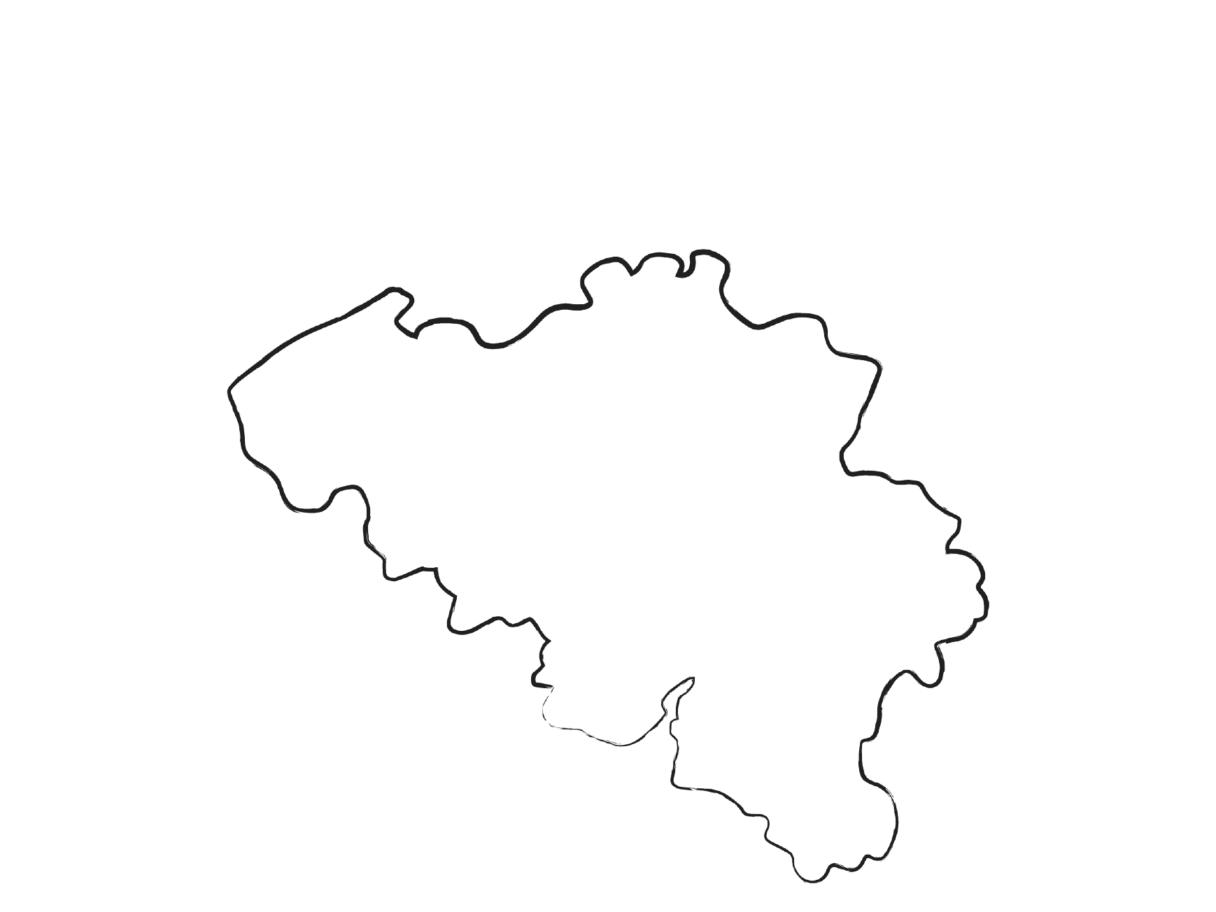 Made in Belgium
Our ingredients are sourced from local producers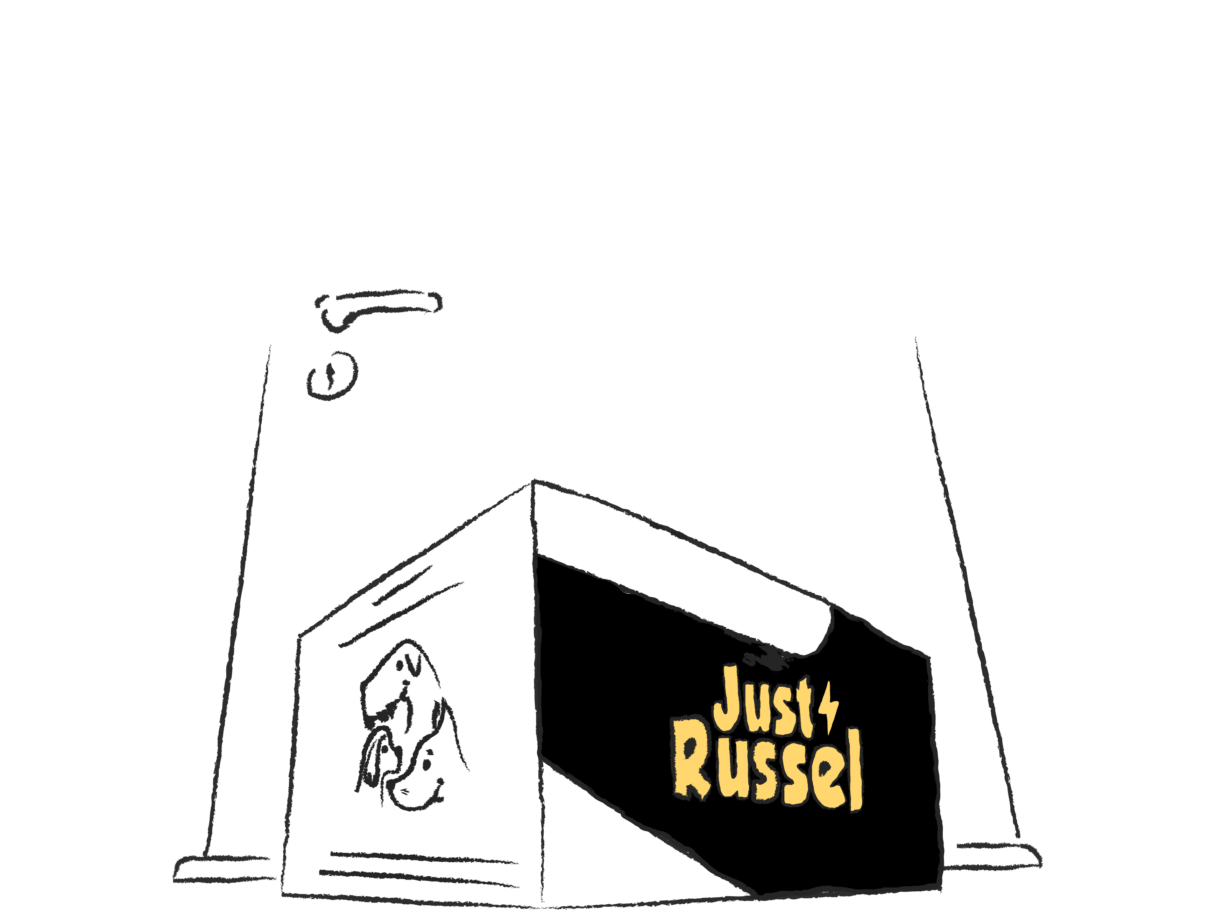 Free at home delivery
No shipping costs, we deliver free to your front door.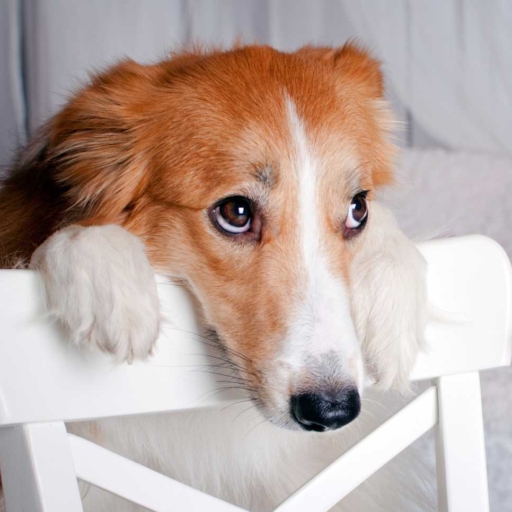 Most puppy food falls short
Your puppy's most important job? Growing. Not too fast and not too slow, or serious developmental problems await him.

Therefore, the portion of puppy food, the nutrients and their proportions must be right down to the gram.

And that is precisely where traditional puppy food falls short. These are made for all puppies, without considering the unique needs of your four-legged friend.
Welcome your puppy with a package full of flavour and fun!
3 kg customised puppy food
Some practical puppy must-haves
A week-by-week feeding schedule
A puppy guide with essential tips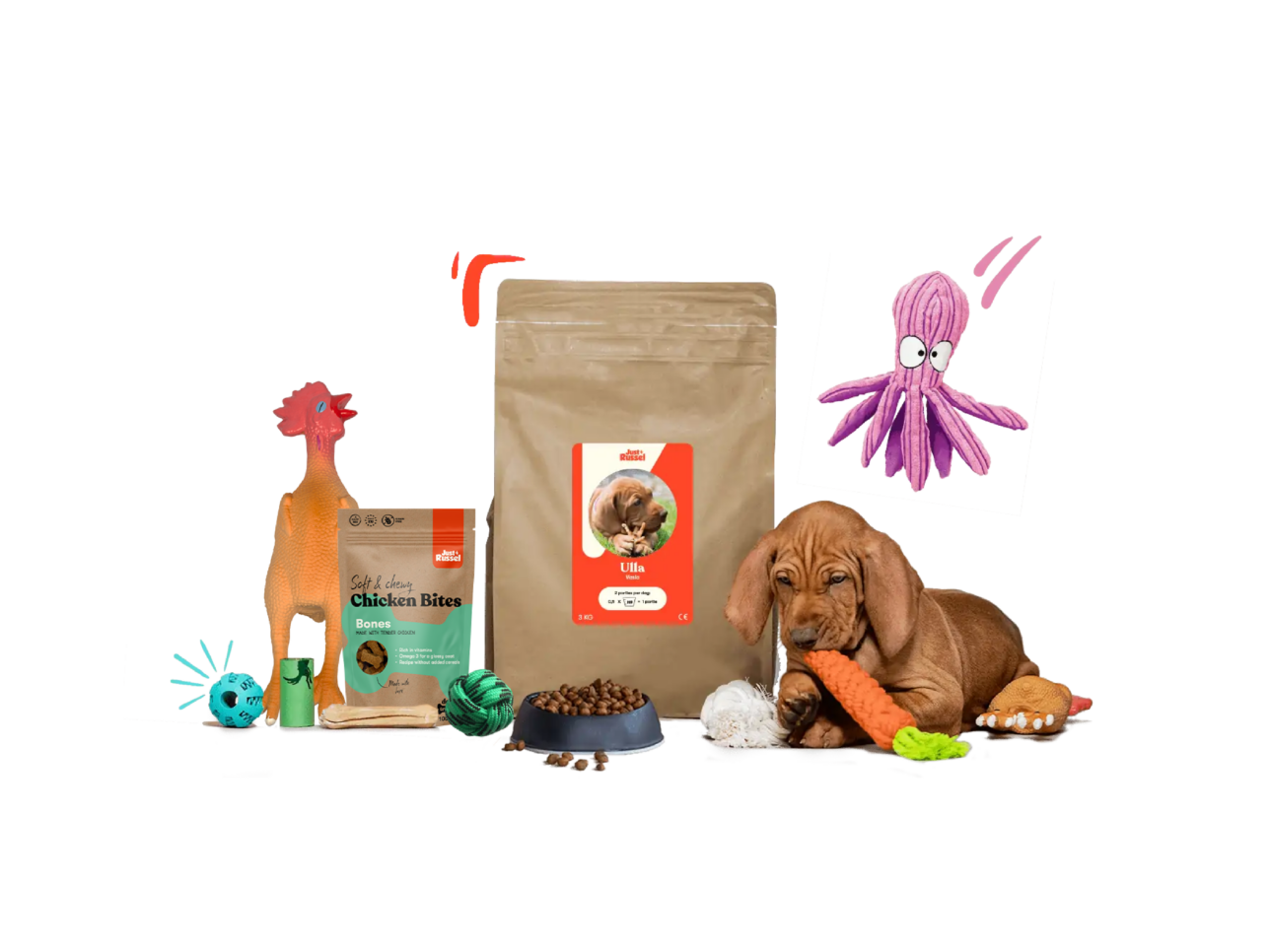 Save stress, time and money with nutrition tailored to your little friend
All puppies, like yours, deserve a worry-free future. That's why we devised a plan. Our strategy: have vets tailor nutrition to each puppy individually. Because they know what's best for your dog, right?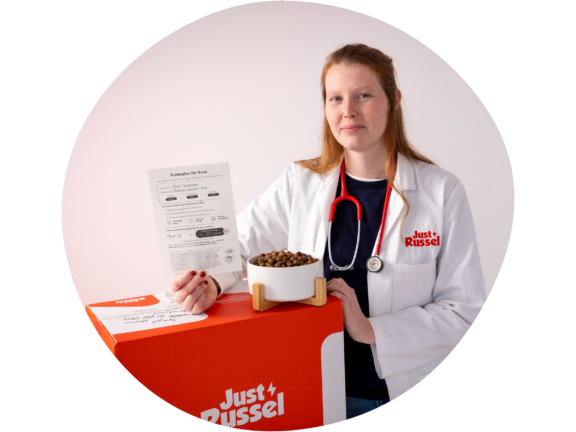 Safe recipes thanks to our vets
Our vets prepare unique recipes for each puppy. For example, they make sure the calcium-to-phosphorus ratio in your puppy food is perfectly correct to prevent joint problems later in life.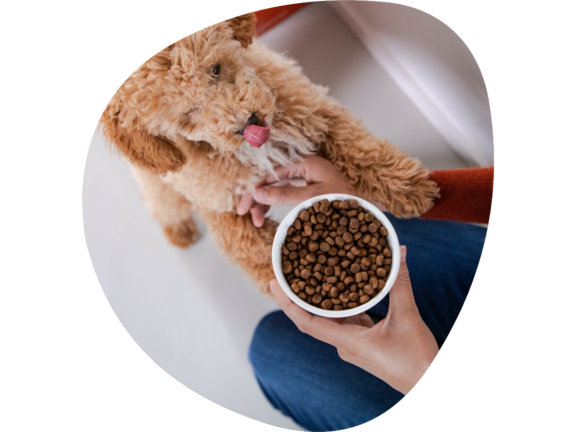 Pure natural for irresistible taste
As with children, eating is often difficult with puppies. Logical, if you analyse "traditional dog food": a bed of cereals with garnishes of chemical flavourings. Fortunately, we provide real gourmet meals for your puppy with fresh chicken, lamb, salmon and Belgian vegetables and fruit.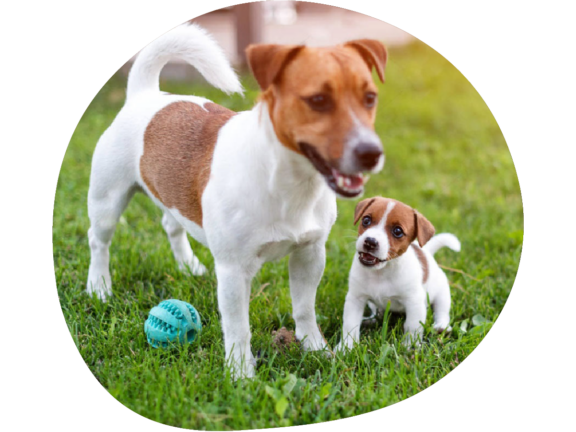 Nutrition that grows with your pup
Our smart calculation tool keeps track of your pup's age and calculates which nutrients it needs at each growth stage. That's how his kibble evolves automatically with him and you don't have to worry when to switch to adult food. Convenient!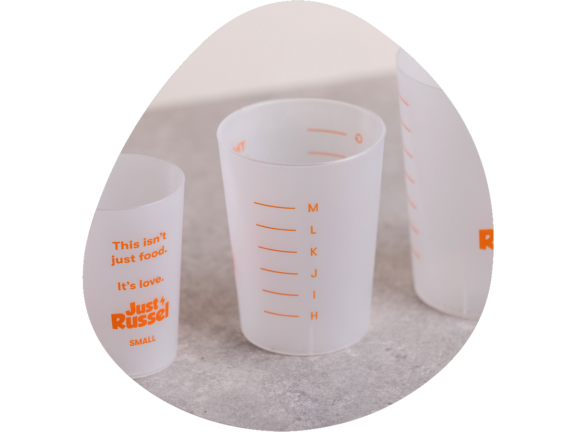 Always the right portion
You get a handy size cup and feeding schedule in your first delivery of personalised puppy food. That way, your puppy never eats a kibble too much or too little and enjoys stable growth without growing pains.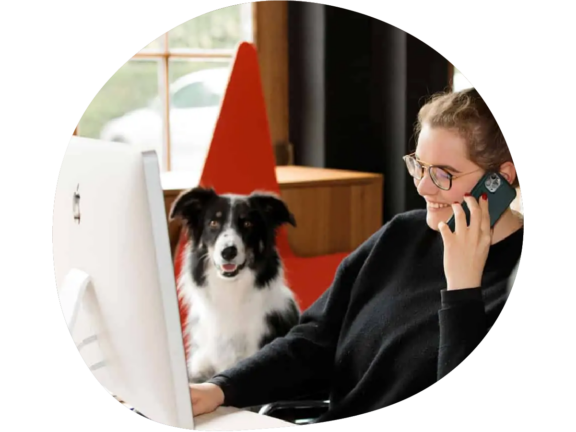 Essential tips from nutrition and behaviour experts
Looking after your puppy is fun, but how exactly should it be done? Don't panic, because our experts have compiled all their best parenting tips and tricks in a practical puppy booklet. You get it for free in your first delivery!
Everything your pup needs in 3 steps
1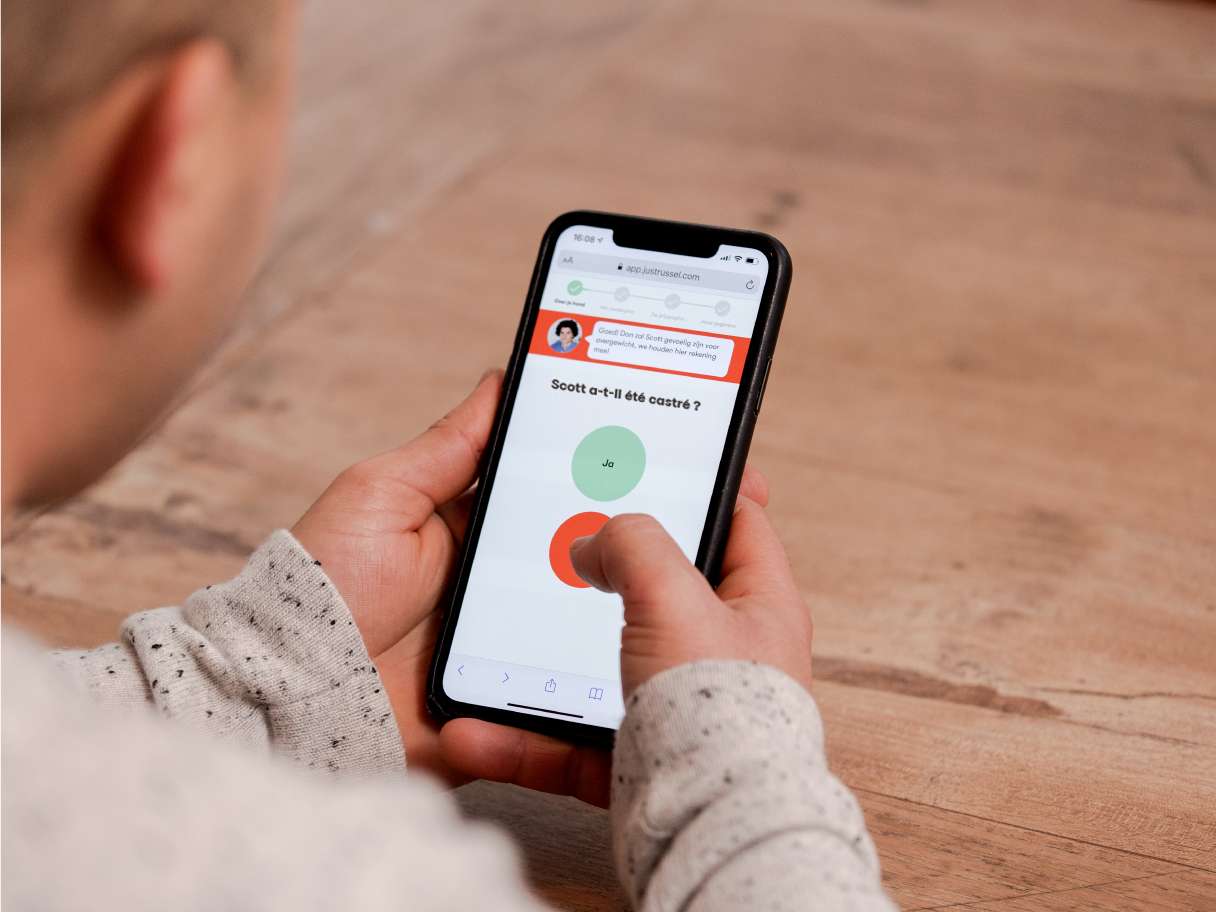 Tell us what we need to know about your puppy
Such as his age, race, weight and much more.
2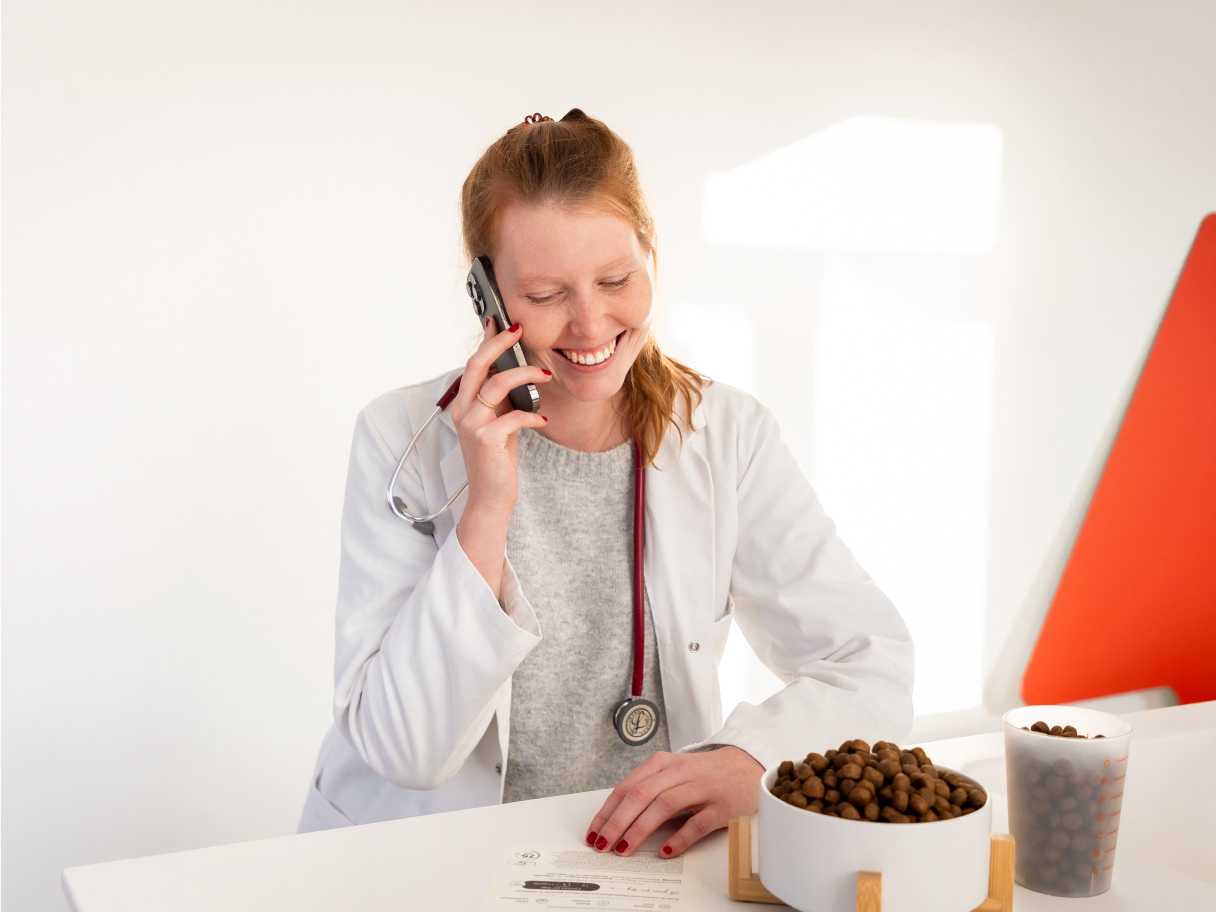 Our vets make his/her food
Balanced and with fresh ingredients.
3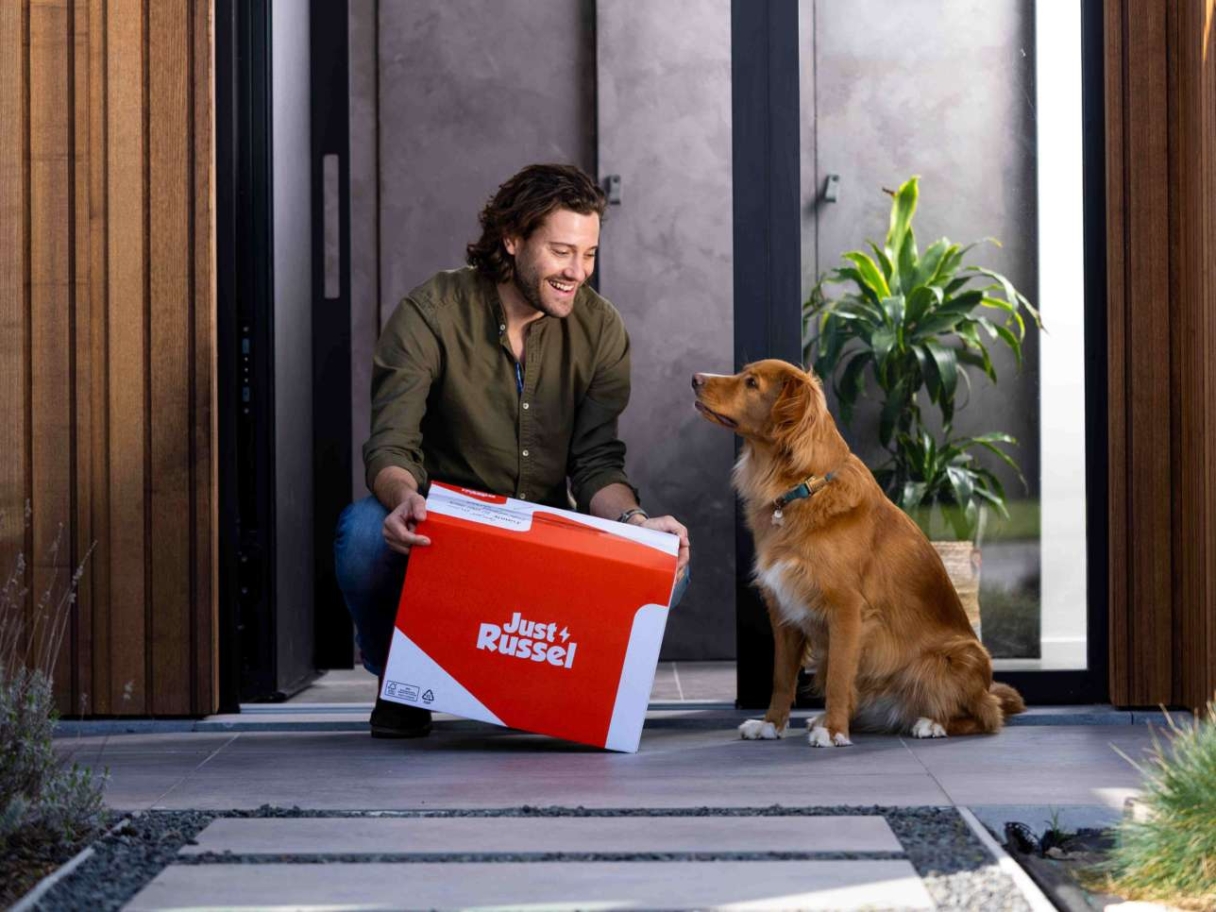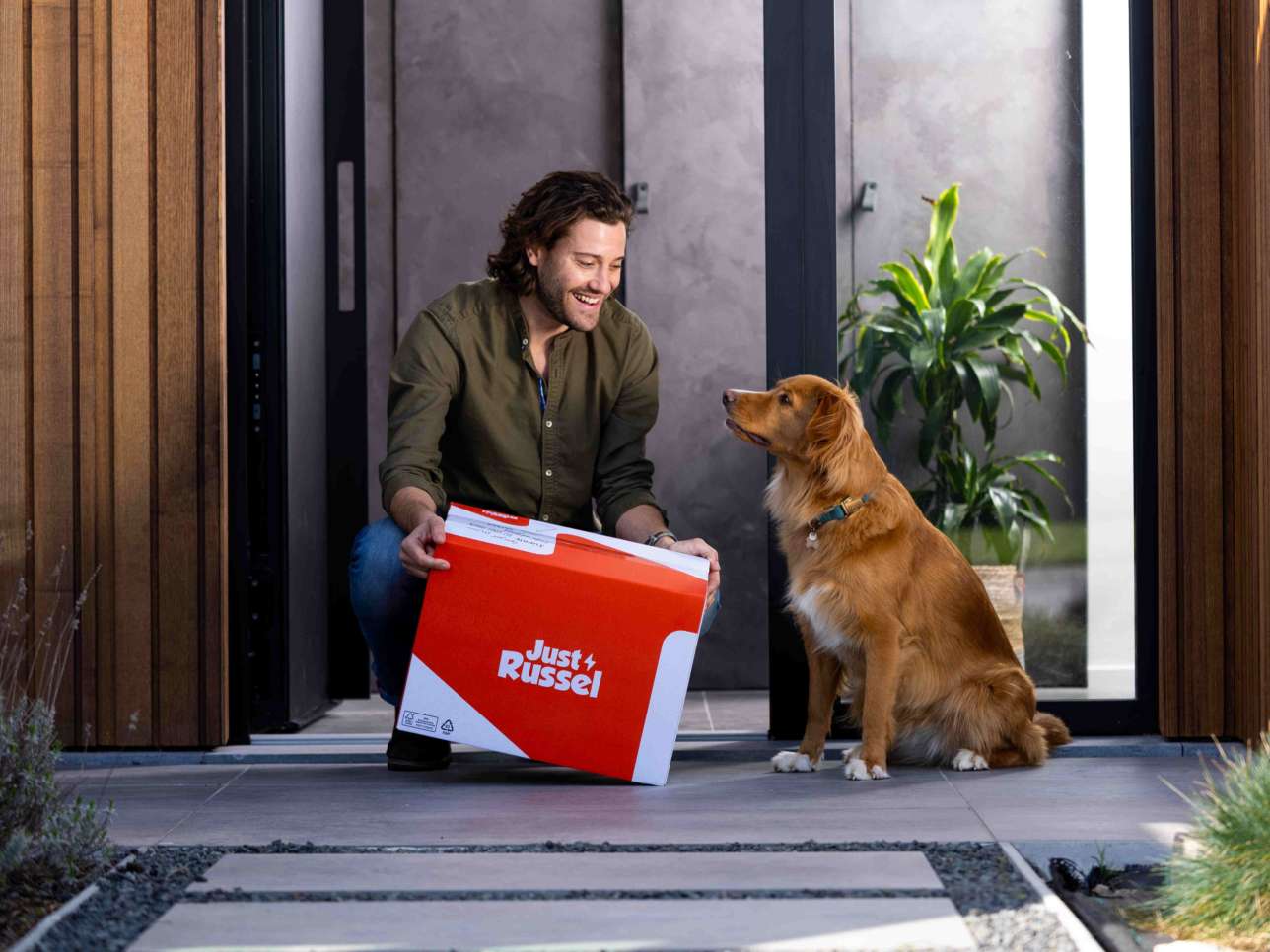 You get your puppy food delivered to your door for free
This is how we help you save time and money.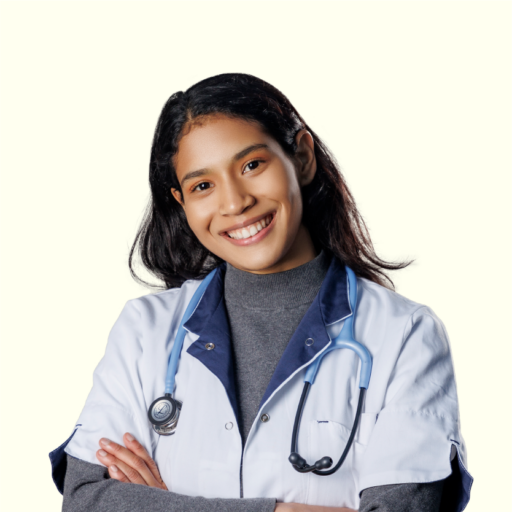 Our vets help take care of your puppy
With all your concerns or questions about feeding your puppy, you can contact our experts. 100% free of charge. Call, email or app and get advice that works for you, exactly when you need it.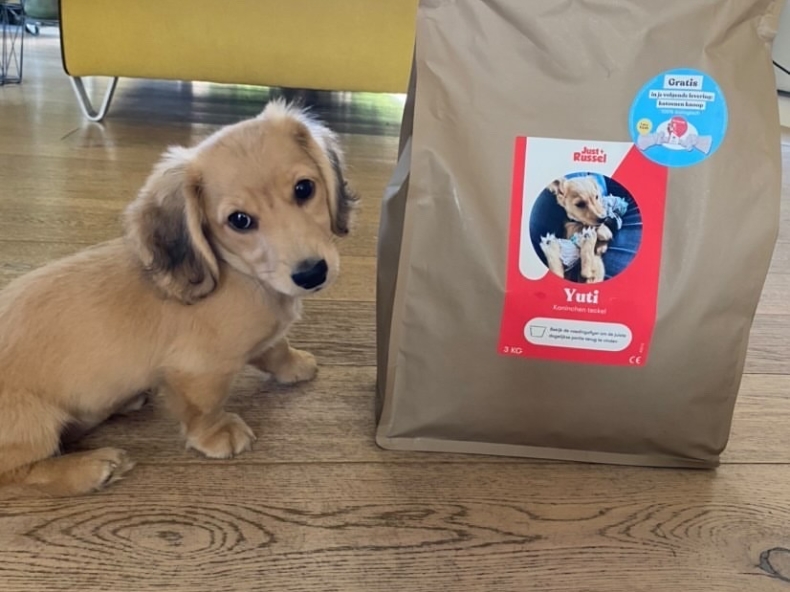 After trying more than 10 different brands, Just Russel is the first brand that our puppy does not have saggy bowel movements with! Now she can finally thicken and strengthen. I also find it super easy to order the food. You really notice that you guys value customer service!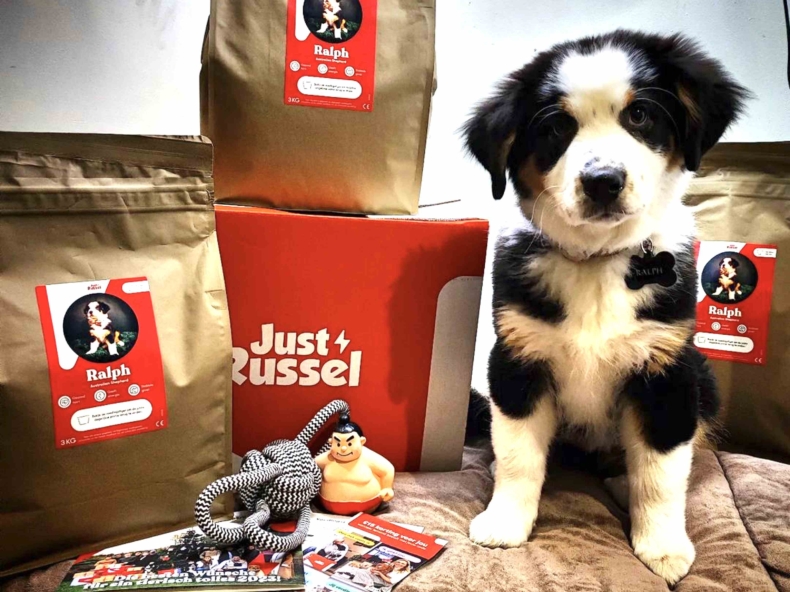 Ralph refused eating the kibble we received from the breeder. Even at home, he hardly ate and was getting smaller and smaller. Because of his condition, we started to get seriously worried. I ordered customised kibble from you and he was immediately wild about it. We are very relieved that the kibble taste good to our pup and give him a chance to gain weight!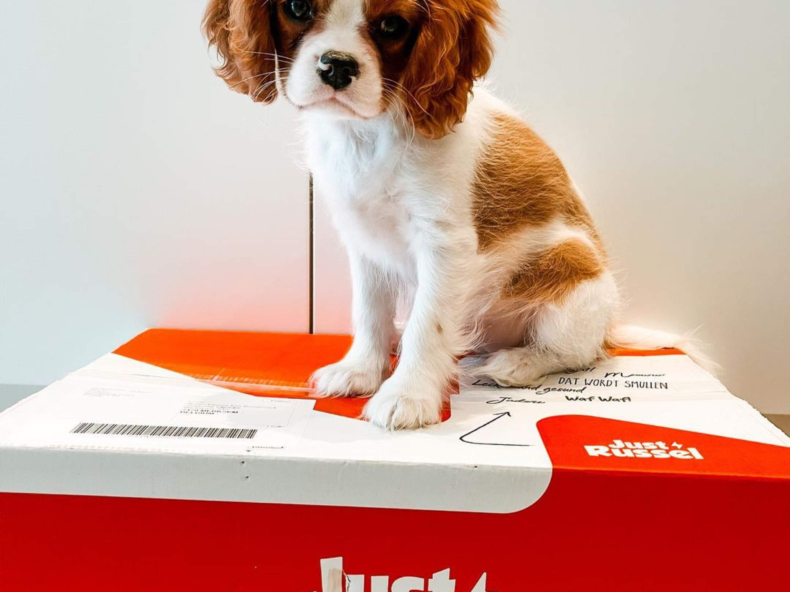 Finally our puppy Milo eats enough! He did not like the kibble we got from the kennel and only ate half of his portions. Now that we give him the customised food, he happily eats everything! Thank you Just Russel!!!
Become the best puppy owner with Just Russel
Frequently asked questions from puppy owners
Probably less than your puppy would scoop for himself 😉

No, but if we are serious, everything depends on: breed, size, weight, sex, spayed or neutered, age, activity level and how many other snacks he gets.

So you want to know what a healthy portion is for your puppy, then you can calculate this here .
Get your puppy excited again about his bowl of kibble with these tips:

1. Change puppy food. A different flavour can do wonders for your pup's appetite. Just make sure to allow a 7-day transition period so that his gut flora remains balanced.

2. Put a tasty topping on his kibble. A tip: dogs love salmon oil. And packed with omega 3 and 6 so a real superfood!

3. Make eating time fun and challenging! Try pouring your puppy's kibble into a food ball or hiding it in a sniffing mat. Your puppy will find this super exciting and will regain pleasure in eating.
Until he is fully grown. For the largest dogs such as a Saint Bernard, this is approximately at 2 years, and for the smallest such as a Chihuahua from as early as 10 months. Our puppy food grows with your puppy so that you no longer have to worry about that. We automatically adjust the composition of his food to his age. So he always gets the right nutrients at every stage of his life.

Curious about our customised puppy food? Discover your personalised VIP-recipe for your puppy here.